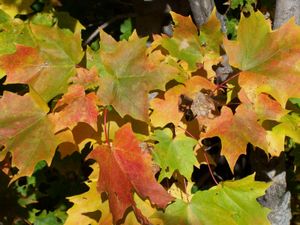 I see genius every day, and sometimes I am fortunate to actually witness a student discover her/his genius in any given moment. 
Take "A," for example. 
She takes on challenges and blows through them like autumn leaves ready to take flight. And she does it at a pace that is enjoyable for her. 
Over the past month, she recorded a few piano tracks for a song and added vocals. Then came time for mixing the tracks. 
Usually when it's time to mix, students prefer to watch and let me mix with their input, of course. 
But A looked ready to sit in the engineer's chair. 
Within one minute, she was cutting, pasting, copying, splitting, adding a new track, adjusting the length of clips, adjusting volumes--ALL WITH ONE HAND and without previous experience or tutoring from me. 
Do you know how she was able to do this? See paragraph 3. 
I learn a lot from my students. From this student, I've learned that "genius" is as unique as an autumn leaf--and it may or may not be about ability or accolades. But it's most certainly about some things we all have access to:  curiosity and giving it a try. Sometimes we give it a try and it doesn't turn out. Sometimes we end up "mixing" a wonderful work of art--but that's not the point. Genius can be in the how. 
Let A inspire you today. Put your hand in there and be a genius.
--Kittyko